About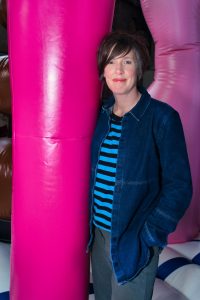 Photo: Jazz Jennings
I'm a contemporary artist based in Leeds and my practice centres around social history, geography and play. My artworks are often site specific and include large-scale installations in heritage venues, the public realm and galleries in a range of media that includes foam, inflatables, food, film, sound, iron, digital technology, neon and loaned objects.
I am passionate about social history and enjoy spending time researching the history and geography of locations. I also love working with people and my projects often involve large numbers of participants who have a personal connection to the site. Most recently I have begun to explore the idea of co-creation where local people aren't just participants in the delivery of my ideas, but included in the research, conception and production of artworks.
Much of my work seeks to close the gap between past and present, drawing on history and playfully interpreting it through the lens of contemporary art to connect with audiences in new and exciting ways.
COMMISSIONS
2023 National Railway Museum, York
2022 Leeds Arts University and partners
2021 Left Bank Leeds
2018 Mirador Arts and the Elizabeth Roberts Working Class Oral History Archive
2018 LIDL and Leeds City Council
2017 Ripon Museums Trust
2016 Arts and Heritage Meeting Point for Pannett Art Gallery, Whitby
2008 Leeds International Pool, Leeds City Council
2007 North and South, Southampton City Art Gallery, Southampton
2006 Secrets and Light, The Culture Company, Leeds
2005 Situation Leeds: Contemporary Artists and the Public Realm, Leeds
2004 Artist In Residence at Patrick Studios, East Street Arts, Leeds
SELECTED EXHIBITIONS
2021 Clifton Park Museum, Rotherham
2019-20 Play Rebellion at BALTIC Centre For Contemporary Art, Gateshead
2019 MAPS Festival by Chalk, Gateshead
2019 Exhibition of shortlisted artists for Feminist Public Sculpture, Leeds Arts University Gallery
2010 Beyond The Dustheaps, The Dickens Museum, London
2009 Town and Country, PSL [Project Space Leeds] and Harewood House Trust
2006 For The North, Generator Projects, Dundee
2005 Launch Pad, Vitrine, Leeds
2005 Multiples, LOT, Bristol
2004 Thermo04, The Lowry, Salford
2003 Artranspennine04, The Walker Art Gallery, Liverpool; Manchester Art Gallery; Leeds City Art Gallery and The Ferens, Hull
2003 Last Few Days, The Merrion Centre, Leeds
2000 Common Prayer, Gallery II, Bradford University
2000 Guest House Twenty, Site Gallery and various locations in Sheffield in association with UTK
OTHER STUFF
2018 – date: IVE Trustee
2015 – date: Consultant to the David Oluwale Memorial Association
2008 – 2018: The Tetley / PSL [Project Space Leeds], Co-Founder and Trustee
2008 – 2013: Northern Art Prize, Founder and Director
2008 – 2012: Leeds Civic Trust, Council member
2008 – 2012: Leeds Visual Arts Forum, Secretary
QUALIFICATIONS AND TRAINING
2003: DCAP (Demystifying Contemporary Art Practice) East Street Arts, Leeds
1995: BA (Hons) Fine Art, University of Leeds, Leeds
1991: National Diploma of Foundation Education in Art and Design, Mid Warwickshire College of Further Education, Leamington Spa