PlayShapes
MAPS Festival at Baltic Centre For Contemporary Art
7 x 1m foam cubes
2019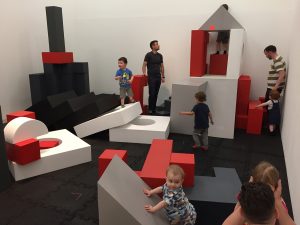 PlayShapes is an interactive, play-led activity for children that allows them to create their own sculptures, installations or playscapes.
Based on 1m coloured cubes that break down into steps, triangles, polygons, rectangular prisms, and cylinders children use their imaginations to create new structures either alone or in groups.
At the beginning of each 45 minute session seven cubes are set out in the gallery space in a grid. As play commences the children can break down the cubes and rearrange the shapes into limitless combinations.
At the end of the session, parents/carers and children work together to reassemble the coloured cubes ready for the next 45 minute long experience.
The idea is conceived as a creative antidote to the rigid formats and primary colours of soft play environments I have frequented with my own children. I have also been inspired by the work of Isamu Noguchi and Froebel's Gifts as a way of introducing young children to experiment with colour and three dimensional space before they are able to comprehend them intellectually.
—
We've been building things with shapes. I made a thing that you jump through. I enjoyed making it and I enjoyed jumping through it and also I liked it when the people shared it. Girl aged 5
I made a house and a big stair case which I jumped off and a bridge. The playshapes were really fun and I just liked them… With playground equipment you can't build your own things but in there you could build anything you wanted. Boy aged 6
We made a big slide. We made a house, a castle and an obstacle course, and we were just thinking of ideas to do and it was really fun. Girls aged 7 and 12
I really enjoyed it. It was lovely to see them using their imaginations, trying to build things, what would be structurally sound, I didn't even think they'd think that far ahead, but they did, and then trying to building things. And then everyone joining in together as well and building something. And then ooooo I like that, I want to build one of those. And let's make the slide bigger. It was really good. Parent
—
Timelapse film courtesy of Baltic Centre For Contemporary Art. Photographs 1-5: Nigel John courtesy of Chalk and MAPS Festival.
Photographs 6-10: Pippa Hale