Revealed Roots, Concealed Connections
Clifton Park Museum
Mixed media exhibition
18 May 2021 – 6 February 2022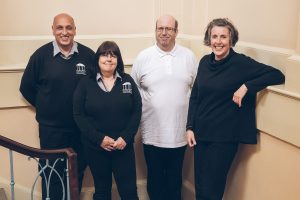 Left to right; Zahid, Angie, Dean and me
Revealed Roots, Concealed Connections is a new exhibition for Clifton Park Museum, Rotherham co-created by me and three of the museum's front of house staff – Angie, Dean and Zahid.
For the last few months we have been exploring the collection and archives held by Rotherham Metropolitan Borough Council and made a whole exhibition of new artworks that connect to their own interests and personal connections.
The collection held by the council comprises a weird and wonderful selection of taxidermy, historic social and industrial items, archaeology, toys, paintings, ceramics and everything in between. It dates back to 1893 when the museum was established and our challenge has been to make this relevant to contemporary Rotherham. Starting with the front of house staff who are all Rotherham residents, the museum repositioned them as creators and curators to respond to the collection a new way and to connect with them and their communities.
The process involved virtual studio visits with contemporary artists who work with collections and museums, sessions with the collections and archive teams learning how to access catalogues, handle and display objects, how to make artworks and how to put together an exhibition. My role has been one of facilitator, connector, disruptor as well as co-creator and co-producer.
The result is an exhibition that spans 7 rooms, the first time this much floor space has been dedicated to a temporary show at the museum. The show includes paintings, photography, sound, film and of course objects from the collection and archive as well as personal keepsakes loaned by Angie, Dean and Zahid.
Thanks to everyone at the museum for all their support and for making stuff happen in an incredibly short space of time. But most of all, thanks to Angie, Dean and Zahid for trusting me and embarking on this adventure with enthusiasm and open minds.
Revealed Roots, Concealed Connections is funded by Arts Council England with support from Rotherham Metropolitan Borough Council.
—
A series of events will accompany this exhibition. Please contact the museum or check out their social media platforms.
You can read a review of the exhibition in the Rotherham Advertiser 210902.
About the exhibition
Angie
Angie loves dogs and has owned Jack Russells all her adult life. As a group we noticed several paintings in the museum that feature dogs including one of Joshua Walker who built Clifton House in 1783. The painting shows Joshua standing in the grounds of the house with his dog, so we decided to shoot Angie in the same location with her dog Dexter. The two life size portraits sit side by side in the gallery representing the different generations of people who occupy the building past and present.
Other dog walkers and their dogs were also invited to take part and their photographs are  displayed in the gallery and outside by the Walker Café.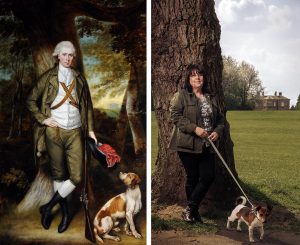 Above: Portraits of Joshua Walker and Angie in Clifton Park with the museum in the background, Giclee prints on Hahnemuhle paper mounted on di-bond, 1450x2360mm. Photography by Chris Saunders. Original portrait of Joshua Walker by John Russell c1784, oil on canvas, 1450x2360mm.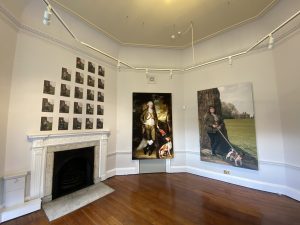 Above: installation shot of Angie's artworks.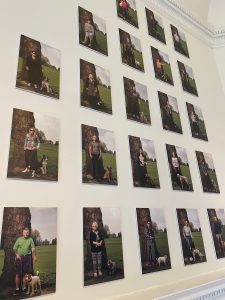 Above: photographs of Rotherham dog walkers. Each image measures 210x297mm, digitally printed Foamex. Photography by Chris Saunders.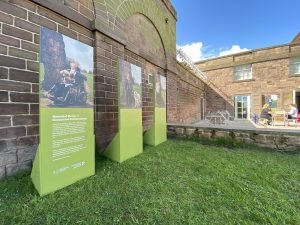 Above: exhibition continued outside the museum. Each photograph measures 594x841mm on UV cured ink on di-bond. Photography by Chris Saunders.
Dean
Dean's installation comprises 19 paintings of ships from the Nightingale collection displayed at various heights around the gallery in the form of waves. It's accompanied by audio of staff from across the museum service reading excerpts from journals by local people who took journeys on ships during the 1800s.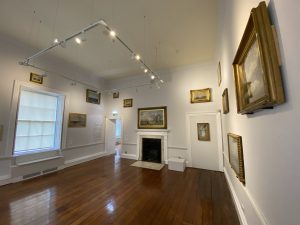 Above and below: installation showing 19 paintings of ships from the Nightingale collection with audio.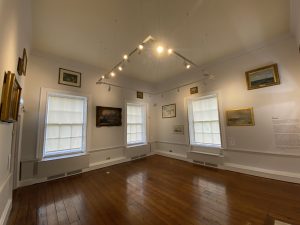 The starting point for Dean's work was a ship in a bottle gifted to him by his Nan and his Dad's stories of his time at sea in the Navy. Dean also loves reading fantasy adventure stories and was inspired by the diaries he found in the archives. As well as being an avid reader he also writes his own stories. We're all thrilled that he's written a short story for the exhibition which is displayed in the end room of the show– it's the first time he's ever shared any of his writing publicly.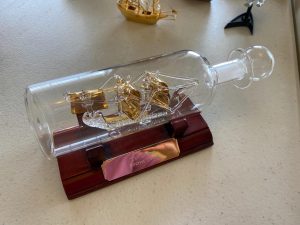 Above: the ship in a bottle which was the starting point for Dean's installation.
Zahid
Zahid is a Rotherham United Football Club fan and was interested in the club's New York Stadium and the former brass works, Guest & Chrimes, which was operational on the same site from 1857 to 1999. The museum holds many objects from the brass works including taps and valves along with paperwork and photographs.
Zahid's work shows objects from both organisations side-by-side to demonstrate the many similarities between then and now: a RUFC team photo alongside one of brass moulders from 1879; football player contracts alongside those between Guest & Chrimes and workers with their apprenticed sons; a football strip next to a specially commissioned brass workers outfits amongst others. We also found some stunning footage held by the British Film Institute showing brass workers leaving the factory from 1901 and this is displayed alongside footage of football players entering the pitch via the players tunnel.

Still from short films of Guest & Chrimes factory workers leaving the brass works in 1901 (courtesy of the British Film Institute) and RUFC players walking onto the pitch in the New York Stadium in 2018 (courtesy of LensGo Media).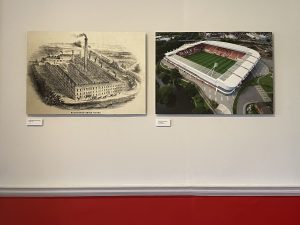 Above; print from the Rotherham Archives of the brass works factory c1837 (left) and New York Stadium (right) courtesy of RUFC.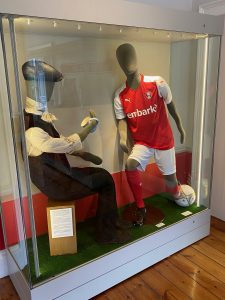 Above: newly commissioned workers outfit by Meridith Towne and 2021 football strip, courtesy of RUFC.